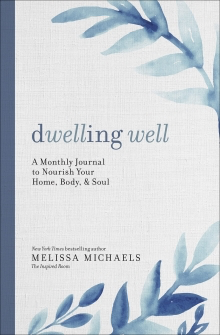 Dwelling Well: Monthly Journal
$16.99
Do you desire to do immeasurable good for yourself, your home, and others, but find it difficult to maintain daily habits that help you accomplish your goals?
 
Here is your invitation to explore simple and practical ways to improve your well-being every day. Each month, you will be inspired to set a plan of action using the calendar pages, reflect daily on the special moments you are grateful for, and journal your thoughts using guided prompts.
 
Dwell on blessings throughout your year and discover how the positive mind-set you're cultivating will create lasting change in your home and body. You will become more mindful of and thankful for your time, your life, and your healthy choices.         
 
This journal is designed to be flexible, customizable, and personal. It can be used together with Melissa Michaels' book, Dwelling, or on its own. Let it be your companion on this journey. This is your story and your life—savor it, celebrate it, and nourish it.