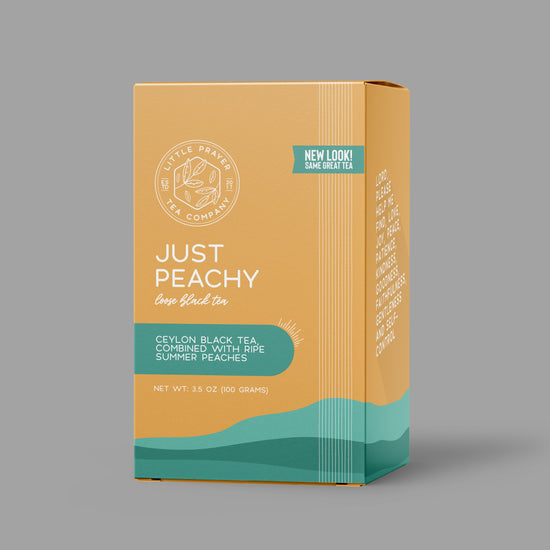 Little Prayer Tea
$16.99
Dragon fruit Tea:
Prayer: Lord, thank you for being with me every moment of every day. Your presence refreshes my soul and fills my heart with joy
Description:  
This refreshing blend is a fragrant and flavorful trip to the tropics right in your cup. Subtle hints of apple, orange, pineapple, and strawberry are united with dragonfruit to tantalize your tastebuds, making a caffeine-free cup of pure delight. Can be served hot or iced
Ingredients: Apple pieces, rose hips, hibiscus, lemon verbena, orange, dragonfruit flavor, dragonfruit, pineapple pieces, strawberries, marigold flowers & rose petals
Caffeine Level: None
Just Peachy Tea:
Peach Black Tea "Just Peachy" Loose Leaf Black Tea - This high grown black tea is combined with the fruity flavor of ripe summer peaches creating a wonderfully fragrant yet smooth tasting tea which can be enjoyed either hot or iced.
Ingredients: Black tea, natural peach flavor, apricots, marigold flowers and apple pieces. Caffeine Level: High.
Lemon Drop Tea:
Prayer: Lord, steep us in your goodness, prepare us with your word, help us to follow your ways
Description: Sweet and tart lemony flavor reminiscent of the delicious childhood candies. Our lemon drop herbal tea offers a refreshingly sweet lemon and pineapple goodness that steeps to a clear yellow infusion.
Enjoy iced or hot!
Ingredients: Pineapple bits (pineapple, sugar), apple bits, lemon granulate (glucose syrup, lemon juice concentrate, sugared apricots, starch, thickener), lemon wedges, lemon peels, natural flavoring, red currants

Caffeine Level: None
Peppermint Tea:
 Prayer: Thank you Jesus for all the beauty I see. Help me Lord, to see all the beauty in me
Description: Refresh and revive with our organic peppermint tea. This classic herb has a fresh, lively flavor and is perfect for making an iced tea that's as refreshing and invigorating as it is energizing.
Ingredients: Peppermint Leaf


Ceylon Vanilla:
Description: Natural vanilla flavor is mingled with premium black tea from Sri Lanka to create a delectable treat! This smooth and creamy combination provides a silky finish that your taste buds will thank you for. Delicious hot or iced, add cream and sugar to taste
Ingredients: Black Tea And Natural Vanilla Flavor
Caffeine Level: High
 Clear My throat:  
Prayer: We shout with gladness because you are the God who redeems! Come and restore your people. Bring your strength and hope into our present circumstances
Description: Sore throat, be gone! Combining the power of ginger, licorice, marshmallow, echinacea, and more to help combat any type of sore throat wizardry. I wouldn't go as far as to say it's magic, but...
Caffeine Level: None
Flavor: Cinnamon Spice Tea
Prayer: Gladness fills my heart and hope overwhelms my soul. You are the true source of every good thing and I give thanks to you, o Lord, my God
Description: Prepare to be enchanted by our Cinnamon Spice loose leaf tea, a captivating brew that will enthrall you with its warm, irresistible aroma. This delectable infusion weaves a dance of sweet orange notes, intertwined with the fiery allure of cinnamon, tempting your taste buds into a spirited waltz.
With each delightful sip, let the cozy warmth enfold you, as you bask in the sumptuous tapestry of flavors. It's time to add a dash of pizzazz to your daily tea ritual, one exhilarating cup at a time!
Ingredients: Black tea, natural flavors, orange peel, clove, ginger, cinnamon
Caffeine Level: High